WHAT WE DO...
We offer a variety of services to our clients including
Testimonials...
WHAT OUR HOME OWNERS THINK OF OUR BUILDS...
We hired Wood Creek to build a coach house in Blind Bay BC. From site prep, to final build their service and execution were outstanding. I would highly recommend them for any home building job.

Douglas
Victor was excellent to deal with. He was responsive, on time and on budget. I would hire him again without reservation.

Jim
My husband and I were really impressed with the men who were working at the house while we were there. They were so pleasant and polite and really hardworking. Our one neighbour was really impressed with them and said: they were the hardest working young people he has seen for many years.

Leanne & Ron
We purchased a home built by Wood Creek Construction in March 2020. We found Wood Creek Team to be very patient and knowledgeable when responding to our many questions and inquiries, guiding us through the process and also keeping us informed with progress updates. They were also willing to accommodate us with a few last minute added extras and at a fair price. We are now moved in and are very pleased with the home, the quality is great and we appreciate the continued support by the Wood Creek team.
My wife and I first met the Wood Creek team during an open house in their new Foothills Estates development, as soon as we entered the home, we were blown away with their attention to detail and quality craftsmanship throughout the house. I, myself have worked in the home construction industry in the past, everything from foundation and site prep, framing, roofing and electrical, every aspect of Wood Creek's homes have impressed me.
We decided to purchase a Wood Creek house, and have been in it now for 6 months, all while being in the middle of the development currently being built around us, so not only do we have an opinion and experience with their finished product, but also the build process and the way the entire crew along with the sub-trades conduct themselves. Everyone has been amazing to deal with. They are respectable, the job site is never a mess, and if we ever have any questions there is always someone we can turn too. Whether I'm purchasing a pre-existing home from them, or building my custom dream home, Wood Creek Construction would and will be my first and only call to make it happen.
WHERE We Are...
4950 46 Avenue SE, Salmon Arm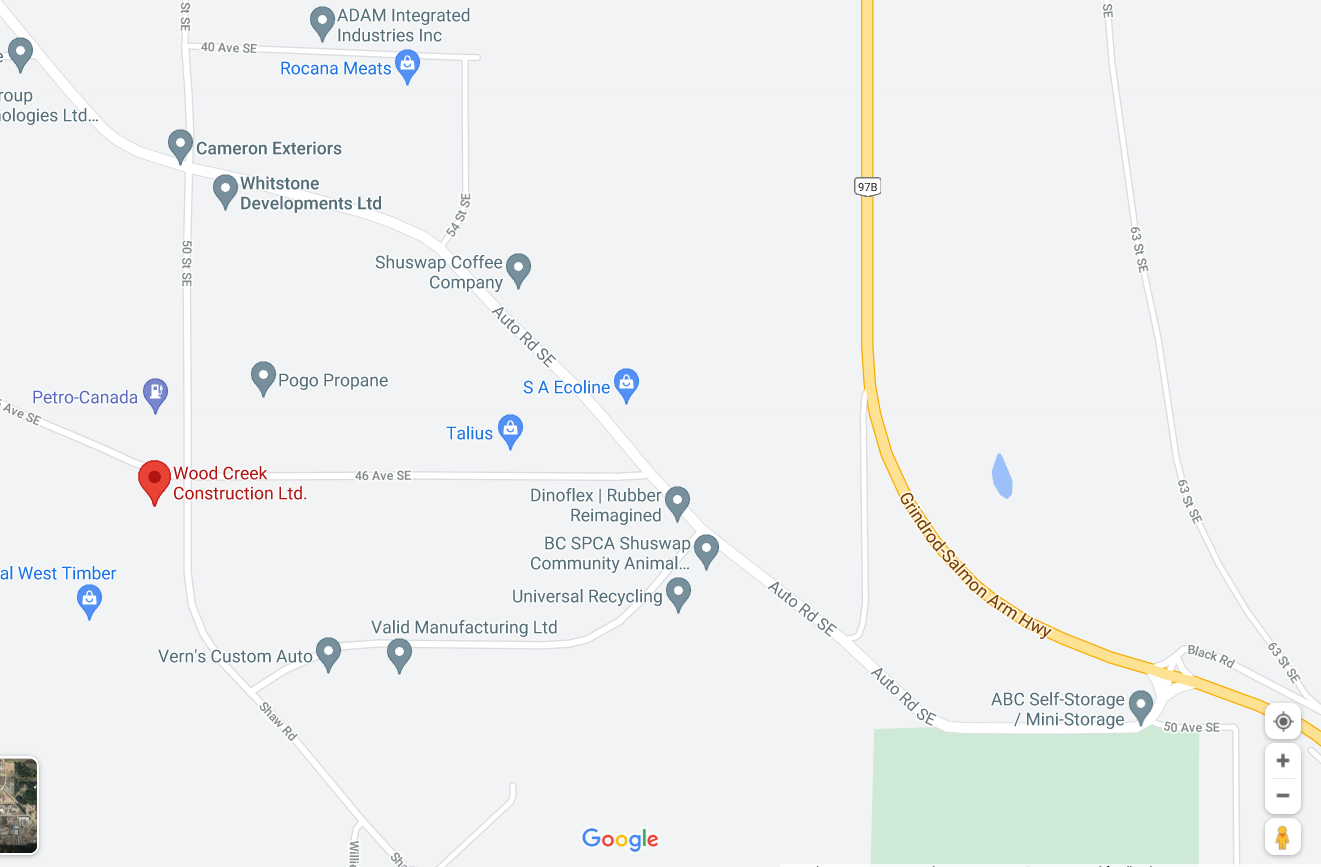 GET IN TOUCH...
Contact us for any inquiries